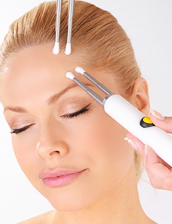 CACI Quantum micro current facial
The award winning CACI Quantum micro current system works to restore and redefine facial muscles whilst reducing the appearance of lines and wrinkles. For optimum results we recommend a course of 10 sessions.
Treatment time : 60 mins - £68
(Pay for 9 treatments and get the 10th one free)
Express CACI
Treatment time : 40 mins - £50
CACI Hydratone
A CACI facial combined with the hydratone gel mask. A unique electrically charged mask, infused with collagen, hyaluronic acid, vitamins C and E, is applied to the face whilst the micro current rollers work to deliver the ingredients into the skin. Results are a firm, hydrated, plump and energised skin.
Treatment time : 1hr 10 mins - £80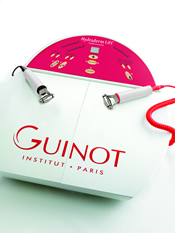 Guinot is a professional brand exclusive to beauty salons. With over 40 year's experience, they offer revolutionary treatments and skincare that give fantastic results. Paraben free and not tested on animals.
Guinot Express facial
An introduction to Guinot skincare with a cleanse. tone, exfoliation, massage , mask and moisturise. 
30 mins - £40
Hydradermie Youth –"The Star Treatment"
An exclusive Guinot facial designed to deep cleanse, hydrate and regenerate the skin. This facial uses galvanic, thermal energy and double ionisation to achieve optimal results. Great for all skin types.
Treatment time : 1hr 15 mins - £85
Hydradermie Age Logic Facial
A deluxe facial for those concerned with the signs of ageing. All the benefits of the hydradermie but with particular attention paid to the eye and neck area. 
Treatment time : 1 hr 30 mins - £99.50
Hydradermie Lift
Stimulates the muscles of the face to give a lifting effect and improve facial tone. Includes a firming massage and mask.
Treatment time : 1 hr 15 mins - £85
Hydradermie Lift Express
As skin ages the facial contours begin to lose elasticity. In the same way that the body muscles are "sculpted" at a gym, this treatment gives a spectacular "lift effect" after just a few sessions. For optimum results we recommend a course of 9 treatments.
Treatment time : 45 mins - £63
Hydradermie Lift Deluxe
Deep cleanses, firms, regenerates and lifts –the ultimate anti aging facial! Combining the Youth with the Lift for maximum results.
Treatment time : 1 hr 40 mins - £140
Deoxygene Facial
The Anti Pollution Treatment. Effectively removes pollution particles and daily toxins from the skin. Featuring three simple stages: a renewing exfoliator, detoxifying mask and reoxygenating massage. Immediately brightens tired and dull complexions.
Treatment time : 1 hr - £70
Age Summum
Designed to firm and smooth the delicate skin of the face, neck, décolleté and hands.  An instant result is achieved as well as long term results by removing dead skin cells, redefining the facial contours and restoring radiance. The ultimate manual treatment, enriched with highly concentrated Vitamin C, Hyaluronic acid and Rambutan to firm facial tissue and combat skin slackening.
Treatment : 1 hr  £95
Hydra Peel
The skin renewal treatment. Exfoliates, resurfaces, moistures and renews the skin. Uses Phytic acid to minimise brown spots, increase radiance and regain luminosity. Course of 3 recommended. Patch test required 24 hrs prior to appointment.
Treatment time : 60 mins - £82
Eye Logic
Instant eye repair. Targets signs of ageing, puffiness and dark circles around the delicate eye area.
Treatment time : 1 hr  - £70
Please note if less than 24hrs notice is given when you are cancelling an appointment, a 50% cancellation fee will be charged. A deposit may be required when booking.